MyVetCalls veterinarians are often recognized by their traditional medical bags - a staple of the housecall doctor. Dr. Solomon Perl, the founder and lead veterinarian of MyVetCalls, has been using his 'doctor bag' for upwards of twenty years as he travels from house to house. Our veterinarians are the real deal - experienced compassionate professionals that are passionate about proper pet care and the significance of the human-pet bond.

Dr. Solomon Perl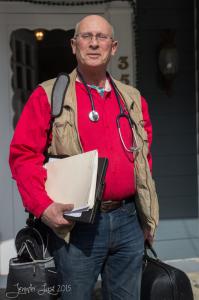 In the winter 2015 issue of Washington Consumers' Checkbook, Dr. Perl and MyVetCalls (formerly Housecalls for Pets) had the highest across-the-board rating in Montgomery County, Maryland. He scored a 97% rating for "Overall Care and Advice" and a 100% rating for "Helping Keep Pet Medical Costs Down.
In the February 2015 issue of Washingtonian Magazine, thousands of local pet owners were surveyed about reliable pet care providers. Dr. Perl earned a "Washington's Top Pet Care" listing in the Mobile Vets category.
Dr. Perl is licensed in Maryland and Washington, D.C. and he is a member of the following organizations:
Member of the District of Columbia Academy of Veterinary Medicine
Member of the American Veterinary Medical Association
Member of the Maryland Veterinary Medical Association
His educational background is equally distinctive:
University of Perugia, Italy, Doctor of Veterinary Medicine, 1988
University of Maryland, Bachelor of Science—Zoology, 1975
Dr. Perl resides in Olney, Maryland with his wife, their four children and an assortment of beloved pets. It is not uncommon to see the entire family sitting around the kitchen table stamping reminder cards and organizing files.
Dr. Schuyler Malachi

Dr. Malachi is a highly skilled and experienced veterinarian based in Washington, D.C. and is licensed to practice in Washington DC, Maryland and Virginia, as well.
Dr. Malachi received her Bachelor of Science Degree from Virginia Polytechnic Institute and State University in 1989. She earned her Doctorate in Veterinary Medicine degree from the University of Florida in 1997. From 1997 to 2009 she worked as an associate veterinarian for organizations such as The Washington Humane Society and the Washington Animal Rescue League. She developed an excellent reputation for performing quality medical and surgical procedures during that time.
In 2007 she opened a private practice in Falls Church. She resides in Washington DC with her two adorable kids.
Dr. Malachi has been with MyVetCalls since 2014 and is a valuable addition to our growing practice.

Thank you so much for so promptly sending the heartworm medicine for Bartleby and all of the excellent care you provide for him.

Thank you for your compassionate care of Bitty during this difficult time. I am grateful for all you did for her, and especially grateful that she was at home at the end and for your kind help to me in dealing with this. I hope that you'll eventually hear from me again for a happier purpose.

I wasn't able to find the right words to thank you when you brought Rowdy's remains back to us. Thank you for your kindness and compassion during the whole procedure and before talking on the phone with Mike in deciding what to do. As difficult as it was there was some comfort and peacefulness in letting Rowdy go in our own backyard by St Francis. A place he loved so much. We appreciate you hand delivering our special guy back to us.

Thank you for sending the meds and for fielding my call about Rudy yesterday. So grateful for you.

I wanted to let you know how blessed I feel to have had you as my vet in Cupid's final days. You were very supportive and showed both Cupid and myself compassion in making this hard decision. I really do feel it was because of you and your service that Cupid was so at ease and accepting when the time came. The only thing I wish I could change, would be having you as our veterinarian much sooner than the final few weeks.

Thank you so much for all of your practical, applicable surgical advise. I learned a lot of valuable techniques and appreciate you taking the time to impart some wisdom. It was nice working with you.

Thank you so much for helping us guide Tim back to good health!

Thank you for being the best vet. Ever.

We want to thank you so much again for your compassion and the extraordinary gift of your time this morning to help Smokey leave us. You were kind to Smokey, Tigert and us. You epitomize the best of your profession and of humanity. Those who are fortunate enough to know you realize you are a gift. We are lucky to have found you.

Thank so much for helping us with Lulu. She's doing really well today. Vets are much nicer than MD's So maybe I'll switch Dr's and come to you! Thanks for recommending the specialist and being such an all around good guy.

I know I growl and carry on when you come over, but since your last visit I've been feeling grrrrreat! Thanks for everything! When I growl next time you stop by, I won't really mean it. You're the best